What department are you a graduate student in?  
Department of Political Science
Why did you decide to go to graduate school? 
I always wanted to get a PhD degree in order to be the first woman in my family to have one.
Did your interests change throughout your program? 
No, my interests didn't change throughout the program. Before applying, I was interested in investigating the effects of transitional reforms in developing countries. In the past, I focused on political/ symbolic reforms, while right now my dissertation is devoted to economic reforms.
What do you want to do with your advanced degree?
I would like to continue my academic career. Ideally, I would like to find a university position that would allow me to keep conducting research.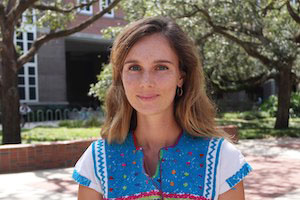 Anastasiia Vlasenko is a Ph.D. Candidate at the FSU Department of Political Science. She studies electoral politics and democratization with specialization in politics of Ukraine and Russia. You can learn more about Anastasiia here.